AXIAL POWER LIMITERS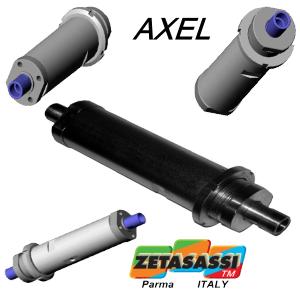 ZETASASSI® AXIAL POWER LIMITERS
AXEL axial force limiters are used to accurately determine the draft or thrust limits beyond which the system slips into idle and no longer transmits motion.The AXEL force limiter can be equipped with a sensor to signal immediately when the safety device goes into action.
The axial force limiter behaves normally like a stiff rod which transmits the draft or thrust motion.When, because of irregular operation, the force calibrated previously is exceeded, the force limiter allows the rod to glide axially, by releasing the self-locking chucks, without transmitting any force.After removing the cause of jamming and after pushing or pulling the limiter in the direction opposite to the jam, the force limiter returns to lock itself in the initial position.The transmissible force can be calibrated, on its scale, simply using the adjustment ring.
It is possible to order products already pre-calibrated, and we can also create different loads from those indicated in the catalogue.
The AXEL force limiters are watertight, with lifetime lubrication, and can work in difficult environments without needing maintenance.
Note: Switches not included