Dry self lubricating sliding bushes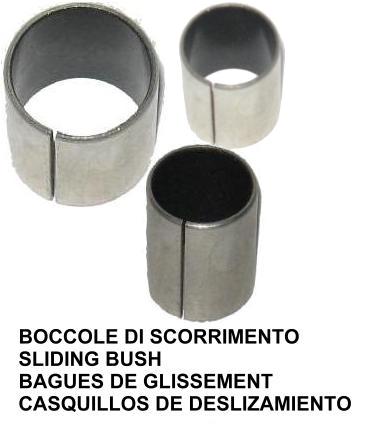 The bushes used in our products, if it is the case ,have the following technical specifications :
They are rolled up bushes with three layers compound material walls made of:
-steel frame
- an intermediate sintered porous bronze particles
- a superficial calendered layer made of PTFE and Pb
- they have a very low friction coefficient
-they are wear and tear resistant and corrosive agernts proof, they can be used in case of lack of lubricant or with small quantities of it if needed.
- Vibrations and noises are reduced.
-light and solid material.
They are used a lot for sloiding elements in various type of machinery such as textile machinery, tobacco processing, hydraulic vehicles, cars, agricultural and forestry machineries, etc.

Load capacity 140/mm2
Temp. Max -195°C ~ 280°C
Speed Max. 5 m/s
Friction coeff. 0.04 ~ 0.20
PV Max (dry) 3.6 N/mm2 . m/s
PV Max (oil) 50 N/mm2 . m/s
AUTOMATIC CHAIN AND BELT TENSIONERS
LINEAR - AXIAL
Our TO, TA and ET series of linear tensioners were designed in 1979 and patented in 1981. We were the first in the world to manufacture linear chain tensioners which used bolts, third in the world and first in Italy to manufacture and design automatic tensioners in general.
Initially designed with an aluminium body equipped with bushes for the bolts, they were then modified using die cast technology. In fact, there is no longer the need to use sliding bushes. The bodies are made of a special mixture of alloys, not only light alloys.
This alloy is heavier thus giving a more robust structure which can better withstand temperatures, creating as little displacement as possible from its tolerances. They are also anti-seize so that internal bolts can slide perfectly; in fact, the clearance in the bolts is reduced to 0,05:0,13 m/m and all our castings are machined using our own CNCs.
These tensioners are also available in a KU version with self-lubricating sliding bushes; the bodies are made of light alloy and not purely aluminium. We have learnt from experience that aluminium has some displacement due to temperature changes which can, in time, lead to problems with the tolerances of the bushes themselves. We have assured the mechanical hold of the bushes by using this mixture together with specific manufacturing techniques using our CNC machinery. The clearance of the bolts falls between 0,02:0,05 m/m.
Why and when to use these bushes?
They are used very rarely; usually in belt tensioners where the belts turn at high speed and there is the need to dampen frequencies on return or long sections, for example, printing machines, etc.
Or when there is the need to mount an automatic tensioner in a position which is difficult to access by the operator.
Note that in all cases of sliding bolts, a minimum amount of grease needs to be applied, either before mounting or after pro-loading, just as the bolts need to be greased over the life of the machine during its normal maintenance.
In most cases, it is better to use the model without the bushes which we recommend. In fact, where there is a need to quickly retrieve the pre-load point (for example, the start of a transmission without a deceleration or acceleration ramp) where the automatic tensioner must be able to quickly retrieve the starting point, and sliding bushes, which decrease clearance on the bolts, are not always the right choice…
Or, it may not be opportune to use them where there is too much moisture or the formation of condensation; in this case we suggest you look at our NT model.
Our NT series automatic chain tensioner was designed in around 2000 and patented in 2001.
It was designed to meet the requirement for a completely closed automatic chain tensioner, to prevent infiltrations (dust from cement, ceramics, dust, sugar, flour, etc.).
Given the experience gained from our earlier models and to maintain sustainable production costs, we designed the product in aluminium and the self-lubricating sliding bushes in plastic, thus allowing the aluminium of the body to displace depending on the temperature but not to affect the sliding action of the bolts. In fact, the bushes are blocked for interference and also have a specifically-designed locking pin so as not to lose tolerances (we know that plastic materials move through humidity present in the air). The clearance on the pins is between 0,06:0,16 m/m.
The heart of a machine is its transmission; to protect it, we offer the best quality Made in Italy products.
If you would like further information about our products, please contact us and we will be pleased to advise you on the right product to suit your applications.