TENDITORI LINEARI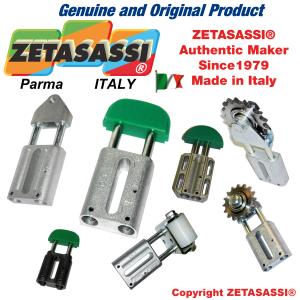 TENDITORI - TENDICATENA - TENDICINGHIA LINEARI ZETASASSI®
TENDITORI - TENDICATENA - TENDICINGHIA LINEARI A MOLLE
TENDITORI - TENDICATENA - TENDICINGHIA ASSIALI A MOLLE
I tenditori lineari sono dispositivi automatici che consentono di mantenere la corretta tensione della catena o della cinghia di trasmissione, aumentandone così la durata.
Recuperano automaticamente l'allungamento che la catena o cinghia subisce nel tempo durante il suo funzionamento, evitando così l'insorgere di vibrazioni, rumorosità, e rotture, dovuti all'allentamento della stessa.
Questi tenditori lineari automatici non necessitano dell'intervento di alcun operatore, consentendo risparmi di tempo in manutenzione e gestione dei macchinari sui quali sono assemblati.
I tenditori lineari TO – ET – TA sono costituiti da una base in speciale lega di alluminio robustissima con un carico di rottura di 440MPa, ed antigrippaggio, che permette il perfetto scorrimento dei perni zincati in acciaio ad alta resistenza, dove viene fissata la testa o pattino tendicatena. All'interno vengono inseriti gli elementi elastici in acciaio ad altissimo limite di snervamento e pre carica iniziale, che permettono si ottenga un'escursione a pressione più costante possibile. In più grazie alle specifiche meccaniche del materiale, evitiamo il consumo degli elementi elastici interni dato dal movimento, e di avere quindi un prodotto di eccellenza assoluta in questo campo.
I modelli tenditori lineari con KU sono provvisti di boccole di scorrimento tipo PTFE per lo scorrimento dei perni.
I tendicatena lineari NT hanno una base in alluminio con carico di rottura di 240MPa, completamente chiusa per bloccare infiltrazioni di agenti esterni, lo scorrimento dei perni in acciaio zincato avviene grazie a delle boccole di scorrimento in materiale plastico autolubrificante.
I tendicatena lineari TO – TA – NT presentano un pattino o testa di tensionatura in materiale plastico anti-usura a basso coefficiente di attrito ( polietilene 1'000'000 UHMW coefficiente attrito dinamico 0,06 acciaio a secco.) e resistono ad una temperatura di 80°C. Con diversi profili i pattini in polietilene hanno un'usura che sostanzialmente è uguale a zero a queste temperature, sono disponibili per catene di tipo ISO o ASA semplici, doppie e triple.
I tenditori lineari ET sono particolarmente indicati quando si opera in presenza di alte temperature, per cui gomme e materie plastiche si usurerebbero, il campo di lavoro può arrivare a 200°C.
Sui perni di scorrimento vengono montate staffe in acciaio zincato oppure teste in lega leggera presso fuso dove è possibile montare pulegge, pignoni tendicatena, ecc.
I tenditori lineari ET sono fornibili anche in versione a TIRO.
I tenditori lineari TO05 sono la versione in materiale plastico ed hanno gli stessi parametri meccanici dei modelli precedenti. Possono raggiungere un campo di lavoro di 65°C.
Per tutti i modelli è possibile realizzare una versione con perni di scorrimento e particolari di montaggio in acciaio inossidabile AISI 304/316, molle in AISI 302.
I tenditori tendicatena e tendicinghi nelle versioni SS sono completamente in acciaio inox, hanno la base ricavata dal pieno in AISI 304, boccole PTFE per lo scorrimento dei perni e tutte le parti meccaniche e di serraggio in acciaio inox AISI 304/316, le molle in AISI 302.