TENDICATENA LINEARE TO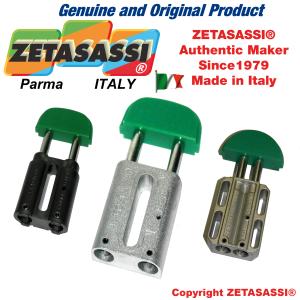 TENDICATENA LINEARE TO ZETASASSI®
TENDICATENA LINEARE TO05

TENDICATENA LINEARE TO08

TENDICATENA LINEARE TO1

TENDICATENA LINEARE TO2

TENDICATENA LINEARE TO3

TENDICATENA LINEARE TOSS
Svariate dimensioni e forze disponibili per i tendicatena lineari TO ZETASASSI®, tutti i prodotti sono costruiti direttamente in Italia.
Il tendicatena lineare automatico TO, è un dispositivo automatico che consente di mantenere la corretta tensione della catena di trasmissione, aumentandone così la durata. Inoltre recupera automaticamente l'allungamento che la catena subisce nel tempo durante il suo funzionamento, evitando così l'insorgere di vibrazioni e di rumorosità dovuti all'allentamento della stessa.
Questi tendicatena lineari automatici non necessitano dell'intervento di alcun operatore, consentendo risparmi di tempo in manutenzione e gestione dei macchinari sui quali sono assemblati.
I tendicatena lineari TO - TA versione con corpo in lega leggera e testa di tensionatura in PE1000 UHMW.
Sono costituiti da una base in lega leggera "speciale antigrippaggio", che ha delle caratteristiche meccaniche particolarmente indicate per questo utilizzo, anche grazie all'altissima robustezza, che permette il perfetto scorrimento dei perni in acciaio zincato, posti all'interno e spinti da molle in acciaio, dove viene montato il pattino di tensionatura catena, in materiale plastico anti-usura a basso coefficiente di attrito ( polietilene 1'000'000 coefficiente attrito dinamico 0,06 acciaio a secco) e resistono ad una temperatura di 80°C.
Con diversi profili le teste (pattini di tensionatura) in polietilene hanno un'usura che sostanzialmente è uguale a zero ( a queste temperature ) e sono disponibili per catene di tipo ISO o ASA semplici, doppie e triple.
Vengono montati e controllati uno ad uno manualmente da personale specializzato, per avere il massimo controllo della qualità e quindi un perfetto scorrimento dei perni.
I materiali di alta qualità la fattura e le tolleranze dei componenti, che lavoriamo direttamente con i nostri CNC, permetto che il prodotto duri nel tempo e funzioni correttamente per tutta la vita del prodotto.
I tendicatena lineari, varie misure in termine di dimensioni e forze di tensionamento per avere il prodotto dimensionato al tipo di carico, struttura e varie esigenze del cliente.
Per tutti i modelli esiste una versione con perni, molle e particolari di montaggio in acciaio inox AISI 304.

Per tutti i modelli esiste una versione KU con "boccole di scorrimento autolubrificanti a secco" .